Rondo Learning - Helpful Training to Equip Your Team
08/08/2019
On completion of the Rondo Learning Online module you'll be able to:
List the features and benefits of each Rondo system
Explain the basic installation process for each system
Learn how to respond to commonly asked customer enquiries and offer helpful solutions
Be familiar with the Rondo technical resources available in our literature range and on our website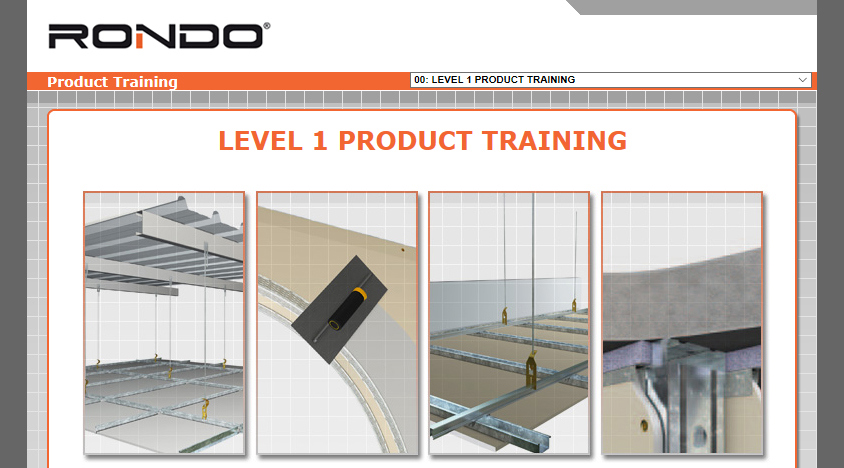 For those of you looking to take the next step (and have completed our Rondo Online Learning module of course), Rondo Skills 2 for Intermediate is available at any of our Rondo Training facilities in Sydney, Melbourne, Brisbane, Perth, Adelaide, Auckland or Christchurch and is run by our Rondo Product Trainer, Dominic Gillespie.
If you're looking for something hand-on and are familiar with Rondo products and systems, Skills 2 is the course for you, covering:
Installation elements of our most popular systems including KEY-LOCK® Concealed Ceiling System, DUO® Exposed Grid Ceiling System, EXANGLE® Drywall Finishing Beads and Stud and Track Wall Framing; and the advantages of each system
Tools used by contractors and why
Common terminology when installing Rondo Wall and Ceiling Systems
How to square a room, plus more…
Rondo Skills 3: Advanced
Rondo Skills 3 is the final module of the Rondo training program and is a mostly theory-based aimed at giving our distributors advanced knowledge of our systems.  It is designed for those of you who want to:
• Read and understand span and load tables for Rondo ceiling applications
• Read wall height tables for Rondo Steel Stud and Track Installations
• Interpret system requirements for architectural drawings
• Understand how sloped ceiling and bulkheads are constructed and more…
Skills 3 will equip your Sales Team with the knowledge to recommend Rondo products and systems to contractors for their next project
Rondo Skills Training is just one way we help our partners grow their businesses. From teaching about the features and benefits of each product, to correct system applications and safe handling, these three training modules will give you a rounded understanding of why Rondo's steel wall and ceiling systems are best for your customers.
Sound like something you and your team could benefit from? Get in touch with Rondo today and register for their next available course...and see what it does for your trade store.