The Towers and Ritz Carlton project sits proudly at the water's edge of Elizabeth Quay as a new edition to the Perth skyline. Cementing Perth CBD as a hotspot for tourism and entertainment.
Architect Cottee Parker and Builder Probuild engaged Rondo in the early discussions regarding preliminary designs and specifications on the framing requirements. Rondo Engineers were required to factor in high wind loads in our Design R Specification, due to the location of the project.
The Ritz Carlton has a luxury reputation and with that means a spectacular build. One of the many key features is a stone ceiling to the ground floor area. The stone weighed 50kg per m2 and therefore, there is an extra load that needs to be accommodated for on the ceiling framing system to achieve this grand design. Rondo engineers designed a Steel Stud Ceiling System that has the strength to achieve and support this ceiling load, which is our ceiling system of choice not only for internal ceilings with higher loads, but also for external soffits. Our KEY-LOCK® Suspended Ceiling System was also used as the suspended ceiling of choice providing support for feature ceiling linings.
Working with the wall and ceiling contractor Express Interiors, Rondo engineers provided several project designs throughout construction. A combination of Steel Stud, QUIET Stud®, MAXIjamb® and Stud and Track were installed to this intricate and large-scale impressive project. Wall and ceiling contractor ANWEST installed Rondo stud framing to curved parapet wall areas to the roof level, which required specific design to achieve what was required. Rondo Top Hat framing was designed and installed to steel structure I beam columns to provide framing for linings. Top hat framing was also required for the Kimberley stone finishes prominent to the podium level areas to the Ritz Carlton.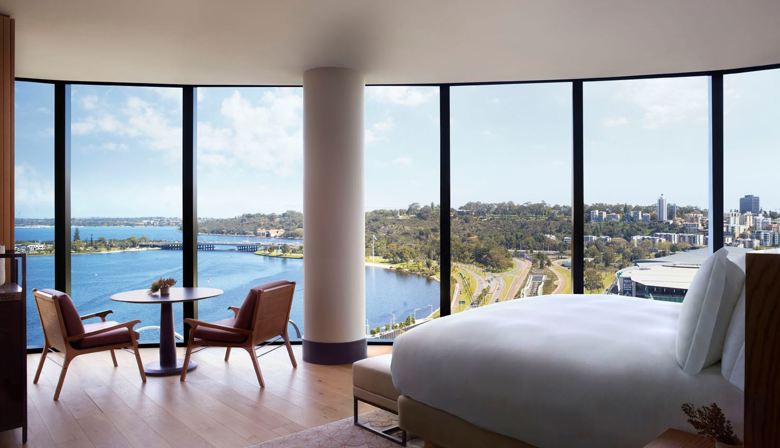 To finish the walls and ceilings and assist in straight and neat corners, Rondo's EXANGLE® Plastering Beads were used through this project. Not only do our plastering beads help with the finished look, but as superior beads, they also help protect the corners from damage and cracking which is especially important in a high traffic areas of the building. Our EXANGLE® range covers both internal and external corners as well as achieving features with our Shadowline Bead.
Regular site visits were conducted by Rondo Representatives to assist the project team and contractors throughout the construction stages. The site involved some delivery constraints and challenges, however Rondo customer service and distribution worked closely with the Contractor on deliveries and product requirements.